Prospect Park
About Prospect Park
Prospect Park is a historical and vibrant Minneapolis neighborhood that is known for its cohesive community spirit. In fact, Prospect Park's community association – the Prospect Park Association – is the city's first neighborhood association, founded in 1901. Situated on the border of St. Paul, the Mississippi River, and the University of Minnesota, the area is known for its hilly terrain and maze-like streets (somewhat of an anomaly in the Twin Cities), eclectic mix of residential, commercial and industrial development and historic landmarks. It also is known for its historic homes, many of which were built between 1915 and 1930 in the Craftsman, Prairie School, Tudor Revival and English Cottage.
Nine sections comprise the 1-¼ square mile neighborhood which offers an abundance of amenities, including shops, restaurants and a wide range of year-round art, education and cultural activities. Tower Hill is often cited as the city's highest point and is home to the "Witch's Hat" Water Tower, which is listed on the National Register of Historic Places
Office Space In Prospect Park
Prospect Park has seen an influx of development recently, with a significant number of new multi-family projects with retail space. The amenities and housing mix along with the convenient location are drawing new companies to the area. The location is unique in its proximity to the University of Minnesota, making it an optimum location for businesses that rely on attracting talent or leveraging the University resources. In addition, the neighborhood's proximity to both St Paul and Minneapolis makes it easily accessible via car, foot, bike or public transit.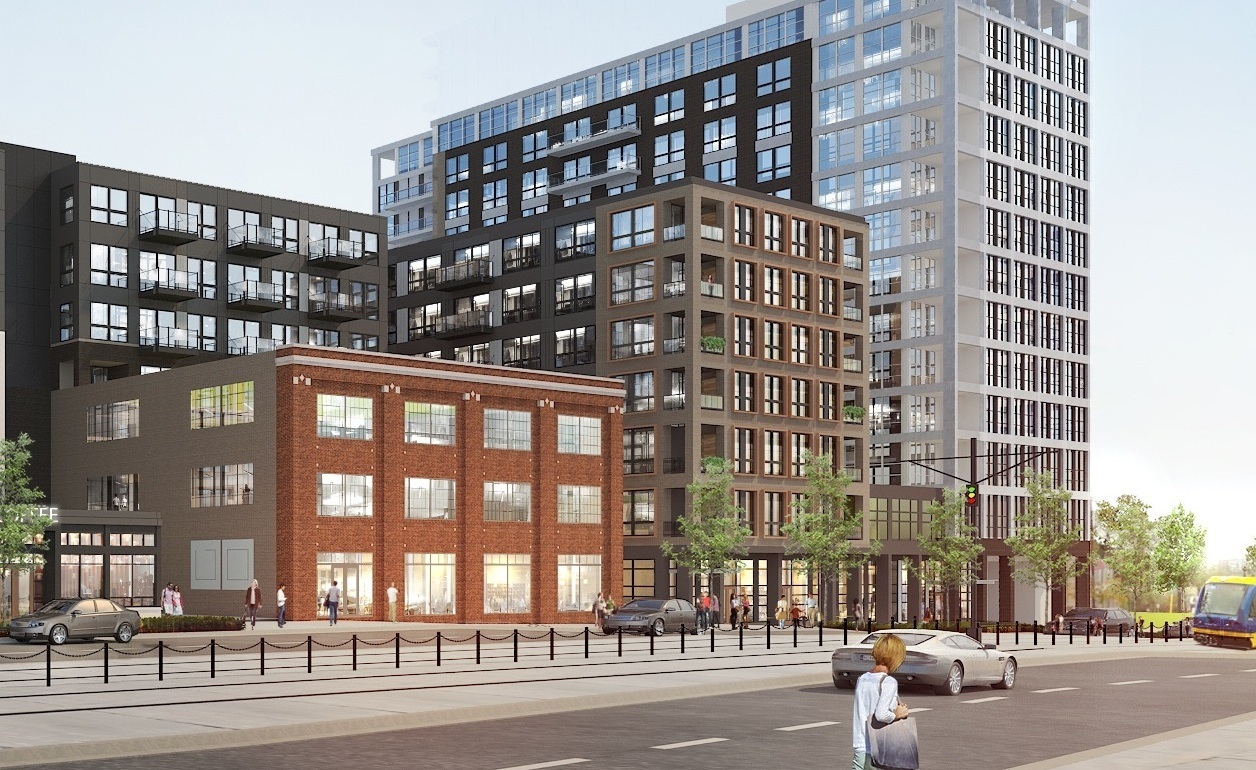 Featured Space -
3338 University Ave
Eating, Drinking and Entertainment
Prospect Park residents and businesses love to showcase all the creativity oozing from the community. As such, you will find many traditional yearly events in the area from the popular Ice Cream Social to the Fire and Ice Festival and Harvest Fest. The Textile Center, a national center for fiber art with a mission is to honor, promote and inspire textile arts, offers more than 200 classes a year for people of all ages, and is a dynamic hub of activity in the neighborhood.
Music also matters to this community, which hosts an annual summer concert series at the Pratt School amphitheater. Surly Brewing also recently opened its Festival Field and launched their own poplar summer concert series. And speaking of music and Prospect Park, rumor has it that the Witch's Hat Water Tower was Bob Dylan's muse when he wrote "All Around the Watchtower." He could have seen it from his nearby home in Dinkytown in 1959. Not every neighborhood can claim that!
In addition, you will find a wide array of businesses offering products and services you need and use like Fresh Thyme, Workhorse Coffee, Anytime Fitness and much more.
Photos: Darin Kamnetz, Meet Minneapolis
Getting Around Prospect Park
Prospect Park is at the heart of Minneapolis' public transportation network and is easily accessible via various transit modes. The Green Line's Prospect Park Station and Westgate Station operate 24/7 and connect residents to downtown Minneapolis, Saint Paul, the University of Minnesota campus, Target Field and MSP Airport. Commuters from suburbs have easy access to Interstate 35W, Interstate 94, and Highway 280. To reduce the dependence on automobile transportation, bike paths have been created and are maintained throughout the various districts of Prospect Park. The neighborhood is a biker and walker's paradise with a bike score of 90, a walk score of 73 and it has a transit score of 68.
We are looking for clients who are passionate about their business and community.